Wedding Video Customer Comments for Razzelcam
Emma-Louise and Antony Holeksa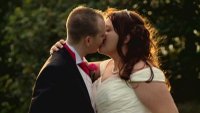 Dear Martin,
I am quite honestly speechless. I don`t know how to tell you how delighted we are with the DVD. We were finally able to watch it yesterday morning and since then I have been trying to find the words. I felt the best way to voice how we feel was in a testimonial that you are welcome to use if you would like to.
"As a wedding photographer myself, I wanted every single minute of our wedding day captured and recorded. I searched high and low from Berkshire to Cardiff looking for the videographers for the job. Within minutes of watching the carefully edited RazzelCam Showreel, we realised that this company really cared about the couple they were working with and understood what was important to them. On the day of the wedding you were not only calming and full of cheer but were also great fun to work with. In short, it was a pleasure to have you sharing our day with us. We were really looking forward to receiving our Wedding DVD and when it arrived we were not disappointed. It was absolutely fantastic. The footage was beautifully filmed and the music and transitions were perfectly timed and chosen to suit the mood of each scene. So much care and attention has been put into both the filming and the edit that it surpasses all expectations. We are truly thrilled with the end result and feel that hiring RazzelCam was one of the best decisions we made towards our wedding day.
We would like to say a huge thank you to you, Martin, and all at RazzelCam. We felt you captured the day exactly how we wanted it to be and have given us an absolute treasure to cherish for the rest of our lives - that is if we don`t ruin the DVD`s from overuse in the first year!! My family seems to be watching it on repeat!!
With many thanks from the bottom of our hearts,
Emma-Louise and Antony Holeksa