Wedding Video Customer Comments for Razzelcam
Jayne & Alan`s Wedding Video in Cardiff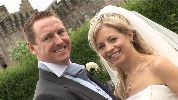 Wow, wow, wow!! What a truly professional team Martin and his daughter, Danielle, are! I can honestly say that Martin was the most efficient and professional supplier that I had for my wedding in June 2008 (which is refreshing!). Both he and Danielle were so professional and down to earth, which made us relax from our first contact with Martin right up until being given our amazing DVD! Nothing was too much trouble for them. We are thrilled that we chose to have a DVD, and we were fortunate enough to be able to afford a photographer too - but if you find that the pennies are a bit tight and you find yourselves choosing between a videographer and photographer then I would definitely recommend you go for the videographer (RazzelCam of course!).
The DVD captures all the small details, the things that people say, your speeches, guest comments, the atmosphere, your vows, and the reaction of the bride and groom when they first see each other on their wedding day! etc etc. This cannot be captured as well on photos. Martin can also take still photos from off your DVD anyway - is there no end to this mans talents!!! The DVD is totally amazing and each time we watch it we notice something different. We had the same day edit, which is a MUST too!! Martin worked his socks off in the late afternoon to edit our footage which was taken that day and he produced amazing results, which was shown to our guests in the evening on a big screen!! None of our guests had seen anything like it before and it was a real talking point. It was lovely for both my husband and I to see what each other had got up to on the morning of our wedding, and it was lovely to capture on film the excitement of the big build up to the ceremony. A real bonus is that Martin and Danielle work as a team whilst filming, hence they have two cameras. This was great during the service, as Danielle captured everything from the back of the church and Martin captured it from the front. There was no need for them to move about as they had pre-planned the angles for the shots, so we didn't even know they were there!
They have excellent equipment, which allows them to zoom in and out from a distance, so you don't realise that you are getting filmed. They have discreet microphones set up so that the sound quality is excellent. Talk about a top job!! - How could you not choose RazzelCam!! I did see lots of other videographers work when planning our wedding, but Martin and Danielle's stood out from them all. I would even recommend that you look at other people's work, as you are bound to realise that RazzelCam's is the best, and then you will realise how lucky you are to know that you are in the hands of true professionals who will produce the DVD of your dreams!
One final thing - Martin knew that my husband had to fly out to Iraq a few weeks after the wedding, and he very kindly brought our editing forward so that the DVD was ready before he went. My husband was then able to take a copy with him to show his friends and to relive the day. Martin also knew that two days after the wedding we were flying out to Ireland to visit family who could not make it over for our wedding and he very kindly offered to produce a few extra copies of the same day edit for us to show/give to family. I was really touched by Martin thoughtfulness and kindness - he did not just take the money and run, but he did a truly top job right up until the end - it's nice to know that there are people like that out there!
Martin is a real gentleman and Danielle is lovely - you really will not be disappointed if you chose RazzelCam! Go on, go for it!! You'll be pleased you did ....