Wedding Video Customer Comments for Razzelcam
Samara and Mike`s Wedding Video in Brecon Powys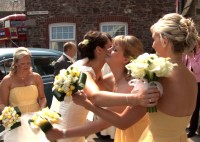 Hi Martin,
We absolutely adore the film, I've now watched it three times and cry every time! Like all couples, we reviewed the budget and were unsure initially whether or not to have our big day filmed but we can safely say that it was worth every penny.
The day is so, so special I can't imagine not being able to revisit every special moment. In addition to this, I saw so much that I never experienced on the day, such as all the guests arriving before I arrived.
Martin, you are such a professional, we would wholeheartedly recommend you and your high quality productions.
Samara & Mike.